About Dave Pate & Sons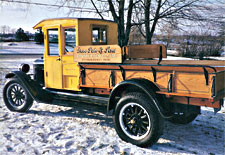 David F. Pate (1918-1998) had been semi-retired in sales at age 79 for Dave Pate & Sons Construction. This firm continues to be managed by his three children and Dave's granddaughter, establishing it's third generation. An antique vehicle enthusiast, Dave presented his 1926 Chevrolet 1-Ton Grain Box Truck in local parades (pictured) representing Dave Pate & Sons Construction.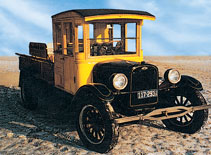 The family owned and operated firm now supports 22 families with highly skilled foremen and their crews making continuous efforts to service our customers. Our year round organization owns, maintains and becomes self-sufficient with a fleet of equipment to be proud of. We uphold uninterrupted "workers compensation and employers liability" insurance. Certificates of insurance available upon request.
In the foundation repair business since 1938, Dave Pate & Sons can rectify any foundation problem obtainable. Both common and most unusual structural foundation repairs are remedied to residential, commercial and public facilitated buildings.
We have the distinction of correcting the existing foundations to eight Frank Lloyd Wright designed homes including The Frank Lloyd Wright Home and Studio in Oak Park, IL.
Residential dwellings make up for 85% of our forte. Guaranteed, innovative, long-term solutions coupled with old-fashioned integrity have instilled in thousands of satisfied homeowners with peace of mind. We frequent 319 villages, townships and metropolitan areas while building departments are known to recommend our firm for foundation repairs in their towns.
We understand that a relatively simple problem is a big dilema for the homeowner. We can take on the toughest structural problem at its beginning - the foundation , minimizing the disturbance to your home and property. Our specialty is raising and/or stabilizing sinking foundations, poured concrete or block walls removed and replaced, wood beams replaced with steel, existing support columns removed/replaced and leaning fireplace chimneys plumbed/secured.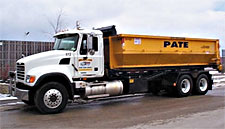 Condominiums and townhouses also have these same signs of settlement calling on Dave Pate & Sons to be of service.
Specializing in shoring, sheeting and underpinning of existing foundations, parking garages, shoring for tank removal and monuments have been a welcome challenge but yet productive with satisfying results. Bulley & Andrews, Pepper Construction, R.W. Collins, ABD Tank, Ragner Benson, Inc., R.T.E. Environmental, George Sollitt Construction, Inc., Coder Taylor & Associates, Centex Homes, Ryland Homes, Airoom Architects, Inc., Lunn Homes, Kimball Hill Homes, Neumann Homes, W.B. Olson, Inc., International Contractors and Capitol Construction are a list of a few engineers, architects, construction managers, general contractors and developers that we correlate work with.
Dave Pate & Sons merits the foundation repairs to National Historic Monuments:
The Clarence Buckingham Fountain, Chicago, IL
Art Institute of Chicago, Chicago, IL
The Frank Lloyd Wright Home and Studio, Oak Park, IL
Winnetka Congregational Church, Winnetka, IL
Metro Commuter Station, Golf, IL
River Forest Administration Building, River Forest, IL
Gateway Arch, Broadview Convalescent Center, Broadview, IL
Graceland's Cemetery's front entrance and concrete perimeter walls, Chicago, IL
Grace Lutheran Church, River Forest, IL
Faith Temple Church, Evanston, IL
Thousands of satisfied homeowners in your neighborhood!