Failing Stone, Brick Foundation Wall or Concrete Masonry Unit (CMU)
Signs:
Wall bowing inward, horizontal or stair-step cracks in CMU wall.
Cause:
Driveway loading or hydrostatic pressure will move foundation walls toward the inside.
REPAIR A:
When a wall is not beyond the centerline of support, a reinforced concrete retaining wall is placed inside the failed area (refer to drawing).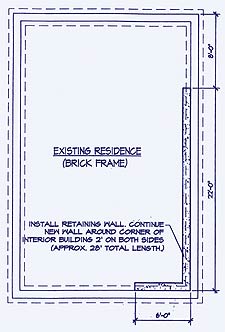 REPAIR B:
When the wall is beyond the centerline of support, the structure is temporarily shored to remove and replace the existing CMU wall with a reinforced concrete wall. Draintile is connected to the existing sump pit or a new pit installed. The sawcut basement floor is repaired.
The Dave Pate Advantage:
Each masonry unit is held in place by the reinforced concrete retaining wall.