Poured Concrete and Masonry Foundation Walls
Signs:
Stair-step cracks in masonry brick, cracks in foundation walls, floors sloping, sticking doors and windows, and continual crack repair.
Cause:
Soil dessication, drought condition, water table drops and poor site preparation.
REPAIR A: Concrete Foundation Walls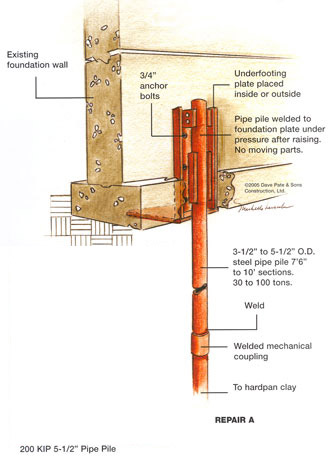 The appropriate size David Pate Pier is selected to hold all the weight of the structure at the work area. The David Pate Underfooting Plate (DPU) is mounted beneath the foundation footing supported by the pipe pile. A temporary harness is bolted to the DPU Plate. Using a hydraulic ram the pipe is pushed to hardpan clay (a rock-like layer of soil) and welded directly to the DPU Plate after the structure is raised or stabilized.
REPAIR B: Stone, Brick or CMU (Concrete Masonry Unit) Foundation Walls
Excavate and shore the foundation in sections to place a concrete grade beam with a David Pate Foundation (DPF) Plate cast into the concrete. This concrete grade beam is beneath the entire length of the affected area (to underpin). As in "REPAIR A", temporary harnesses are bolted to the DPF Plate and a pipe is driven to hardpan clay.
The Dave Pate Advantage:
With a welded connection, there are no moving parts, no screw stock, wedges or bolts (which could fail) securing your home. This underpinned area will resist settling again. These piering techniques and devices were developed, engineered and are manufactured by Dave Pate & Sons Construction, Ltd.